Old Website Town Pages
Important Note
The information on this page has been compiled by Ukraine SIG long time ago.
As JewishGen and the Ukraine SIG evolved, the contents of the page became redundant with other areas of
JewishGen (specially the KehilaLinks) and the new SIG website.

This page will be temporarily hosted by the Ukraine SIG site until this contents is transferred to the corresponding
KehilaLink and/or indexed into the Ukraine Database. Then it will be removed.
Ostrog
Volhynia Gubernia
This very old Jewish community has been the home to the most famous names in Jewish scholarship (i.e. the founder of the great seventeenth century Edels Yeshivah in Ostrog, Samuel Edels the Maharsha). It has many strong features: the synagogue is a seventeenth century masonry fortress that has been the subject of virtual architectural reconstruction, the books printed in its publishing houses fill several chapters of Jewish bibliography, and the Jewish community was sizable and relatively well-off compared to other towns.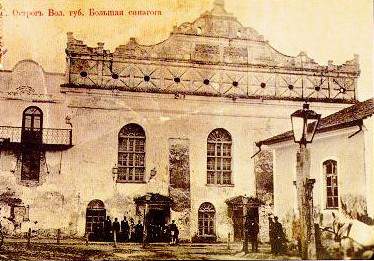 The Fortress Synagogue of Ostrog
The town was a Polish town, on the frontier of the Moscovy nation. It was built to withstand military onslaught, with the synagogue an intregral part of the defense. Jewish men were to man the parapets of the synagogue in the event of attack. It's quite possible that, typical of other Polish towns, The women of the town, Jewish and non-Jewish, would've assisted with fire bucket brigades when the town was under attack.
Swedish postcard maker Granberg in Stockholm made a series of Ukraine postcards and was said to include this example, but this card has been trimmed, and neither their name nor the date appears. It appears to be the same postcard sold by Tomek Wisniewski of the In Search of Poland Society.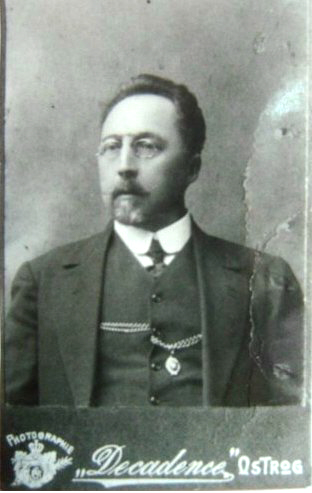 Resident of Ostrog c.1925-1939
This is the picture of Mykhailo Nechyporyk's grandfather (name unknown). He lived in Ostrog.
This picture was made between 1925-1939.
Page created by Deborah Glassman, October 2005.