Old Website Town Pages
Important Note
The information on this page has been compiled by Ukraine SIG long time ago.
As JewishGen and the Ukraine SIG evolved, the contents of the page became redundant with other areas of
JewishGen (specially the KehilaLinks) and the new SIG website.

This page will be temporarily hosted by the Ukraine SIG site until this contents is transferred to the corresponding
KehilaLink and/or indexed into the Ukraine Database. Then it will be removed.
Kamenets-Podolskiy
Podolia Gubernia
Postcards of Kamenets-Podolskiy
| | | |
| --- | --- | --- |
| | | |
| View of Kamenets-Podolskiy on a postcard mailed in 1906 | | The Girls School in Kamenets-Podolskiy, 1905 |
Other Images of Kamenets-Podolskiy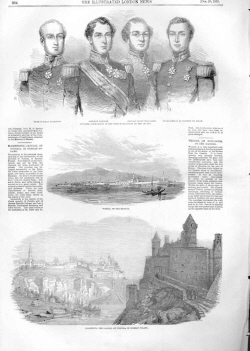 1853 English Newspaper
Families of Kamenets-Podolskiy

The Family of Isaac WEINBAUM
Isaac WEINBAUM was born January 1842 in or near Kamenets-Podolskiy, and died May 19, 1907 in Brooklyn NY. He was a tobacco merchant who traveled widely throughout Russia, and ran a wholesale tobacco factory. According to his daughter, Jews were not supposed to deal in tobacco, liquor or wheat, so the czar "ruined" him. About 1861, he married Vivian WEISSMAN, daughter of Morris WEISSMAN and Sarah GOLDMAN. He brought his wife and children to NYC around 1891. This information and the photographs were contributed by Isaac's great-grandson's wife, Laura Katz.
Isaac WEINBAUM, 1842-1907
Bertha WEINBAUM GREENBERG 1875-1969
Pictures provided by Laura C. Katz
Sarah WEINBAUM - 1877-1947

Ray WEINBAUM MARANZ 1878-1927

Another picture of Bertha WEINBAUM GREENBERG?**
Dr. Abraham Wolff GREENBERG 1870-1935


**Laura Katz is wondering if this is another photo of Bertha or of her sisters or another relative. The back of the picture says it was taken in a Kamenets-Podolskiy photography studio. You can see the back view on our page Photographic Database. If it is Bertha, it might be from the early 1890s.