Southern Africa Jewish Genealogy SA-SIG

Benjamin Norden (1798-1876)

by Hazel Dakers
Editor: Dr Saul Issroff
Copyright © 2000 Saul Issroff, Mike Getz, SAfrica SIG
and Jewishgen Inc.
URL: http://www.jewishgen.org/SAfrica/norden/index.htm
Revised: 6 April 2000
Benjamin Norden (1798 - 1876) was the longest living and, arguably, the best known and most successful of this family of British 1820 settlers [1] at the Cape. He seems to have been an enterprising business man transforming himself from London tailor to general dealer, merchant, auctioneer and property speculator. In common with many members of his family, Benjamin Norden was extremely litigious, many of the cases in which he was involved being against his relations.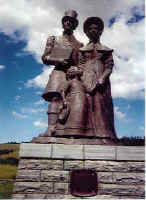 1820 Settler's Monument outside Grahamstown
click to enlarge
Benjamin took an active role in the local business community and in local politics. He was a city commissioner in Cape Town (municipal councillor). His trading ventures led him to stay as a guest of Dingane as representative of Sir Benjamin D'Urban and into partnership with Aaron de Pass. Another friend was Piet Retief. Benjamin moved from Grahams Town to Cape Town but finally left South Africa in 1858 to retire to Ramsgate in Kent - no doubt encouraged by his links with the Montifiore family who lived there - where he is buried with his last wife Abigail [2] at the Jewish Cemetery whose land he donated.

Benjamin Norden was one of the founding fathers of the South African Jewish community. It is recorded that the first Jewish services were held in his house in Hof Street, Cape Town. He was one of the contributors to the building of the first synagogue in the colony - in Cape Town. Benjamin was instrumental in the appointment of Rabbi Rabinowitz. At the time of his retirement a silver urn was presented to him commemorating the contribution he made to the Jewish community.

As a pillar of the local community as a whole - not merely a leader of the Jewish community - Benjamin Norden is known to have contributed to the building of one of the first churches in Durban and to St John's Anglican Church in Grahams Town. St George's Church which was to become the Grahams Town Cathedral contains a memorial plaque to his warrior brother Joshua Davis Norden. It is within its registers that the rites of passage of various members of the Norden family are recorded - births, baptisms and marriages. At first an active opponent of the move to settle convicts at the Cape, Benjamin Norden later voluntarily supplied the convict ship Neptune at his own expense in 1849. Neither his health (he was injured when stoned) nor his public standing ever fully recovered from this humanitarian action.

[note 1] According to MD Nash (The Settler Handbook. Chameleon Press: Diep River, 1987) he was one of three men not listed as members of Willson's Party but associated with that party, perhaps having travelled on the Belle Alliance under another name. His intention had been to travel as a member of the party formed by his father, Abraham Norden whose application to emigrate was unsuccessful. Abraham's daughter, Sarah, and her husband John Norton are members of the Willson list. Whether perhaps Benjamin and his brothers joined the Nortons a little later is not clear. [return]

[note 2] Benjamin is also recorded as married to: Mary Pierce, Margaret and another Mary. His children included: Benjamin Joshua Norden (1825-64), Louisa (b.1827), Abraham (d.1848),Daniel, Mark (b.1829),Abigail Ann b.1839), Benjamin (b.1832), Raphael Daniel (1834-1906), John (b.1842), Julia (d.1907). [return]

Grave of daughter Julia Norden
click to enlarge

Entrance to Ramsgate Jewish Cemetery Aug 1999 (A+H Dakers)
click to enlarge

One of many plaques within 'chapel' headed in Memory of Benjamin and Abigail Norden
click to enlarge

Unmarked probable graves of Benjamin and Abigail Norden
click to enlarge
EMPEROR NORTON
One of Benjamin Norden's nephews was known as Emperor Norton.

Joshua Davis Norton (1818-1880) was one of the three sons (Philip and Lewis or Louis being his brothers) of John Norton and Sarah Norden. Sarah was one of the two daughters of Abraham and Abigail Norden (of Smithfield and Hammersmith in London). She and her husband were amongst the early English settlers at the Cape.

Following the deaths of his parents and brother Louis, Joshua joined the rush to find gold in California, landing at San Francisco in 1849. After a successful trading partnership he went bankrupt in 1856. Three years later on 17th September 1859 he declared himself Norton the First, Emperor of the United States in the San Francisco Bulletin! By 1860 he had assumed protectorship over Mexico. He was followed everywhere by his two dogs. One of these, Bummer, had his obituary written by Mark Twain. Norton I is described by Louden, in The Wrecker by Robert Louis Stevenson, 1879, as "a harmless madman." He died in early 1880 and last respects were paid by 10,000 people. Following the removal of the cemetery in 1934 a massive red stone monument was put up to him. His remains were moved to Greenlawn Cemetery at Colma some 12 miles from San Francisco.

The web links cited below provide extensive reading lists about Emperor Norton.