Stadtschlaining
My Amazing Return To Stadtschlaining – June, 2000


by Regina Espenshade*
(See the earlier article, "Something Unusual Is Happening in Austria")
I am still trying to process the overwhelming experiences and absorb their meaning for my life. The following is a brief chronology of the most significant events I encountered. Upon my return to Austria I spent several days in Vienna visiting the tourist sites, including the Sigmund Freud Museum. Later, I began to relate the significance of Freud's insights to my activities in Stadtschlaining
I wanted to learn more about the Austrian Study Center for Peace and Conflict Resolution (ASPR), the organization I discovered during a 1999 visit to my mother's former village. Therefore, I applied for, and was accepted to participate in, the International Peacekeepers' Training Program in Stadtschlaining under the auspices of the ASPR. My curiosity stemmed from my long-term interest in peace and my desire to understand more about the impetus behind the renovation of Jewish sites in Stadtschlaining.
I was immediately impressed with the high quality and subject matter of the lecturers, the workshops,

and the simulation exercises. Most inspiring were the 30 young people with whom I studied and their deep commitments to peace. Participants came from all over the world: Albania, Armenia, Azerbaijan, Bosnia, Brazil, Bulgaria, Burundi, Congo, Denmark, Germany, Georgia, India, Mozambique, Kosovo, Nigeria, Palestine, et al. Although only 3 Americans attended, the program was conducted in the English language.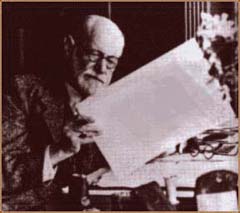 As I learned about reconciliation and conflict resolution in Austria, I began to realize connections with the teachings of Sigmund Freud. I recognized great similarity between the communal healing techniques that I was studying and Freud's concepts of individual and family therapy. How ironic, yet appropriate, to experience this in Stadtschlaining!
During the third week, the United Nations (UN) sent staff to Stadtschlaining to recruit us to become UN peacekeepers for their missions throughout the world. This is a natural integration of my interests and my personal and professional commitment. Analyzing the situations of regional conflict around the world and the unsuccessful efforts to resolve them by military means led me to a simple conclusion. The world needs trained peacekeepers, both civilian and military, to carry out a different type of intervention. After the ceasefire, and sometimes before, there must be an alternative to violence. Perhaps in the future, after gaining some first hand mission experience, I shall qualify to become a trainer of a new generation of peacekeepers. That goal creates a new direction and challenge for me.
Life in my mother's former village evoked in me an emotional response. Every day, as I walked into the center for lunch or dinner, I saw her two former houses occupied by others (elderly people). I kept imagining how different my life would have been if she had not been forced to leave and I had grown up there. I considered buying the houses and donating them for the use of the Peace Study Center. For a brief time, this seemed possible. An elderly occupant died, but her house was not one to which I feel an attachment.
Adjacent to my mother's houses is the restored Stadtschlaining castle. What a contrast it is now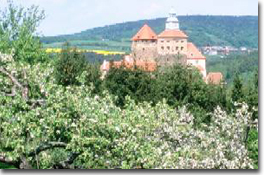 compared with the dilapidated, dusty place I saw 25 years ago! It is now a Museum of Peace and the headquarters of the Peace Study Center, with beautiful conference and seminar spaces. The current museum exhibit, very moving, is entitled "War or Peace?"
How powerful is my memory of the impacts of the war that so deeply affected my family in this little village 62 years ago. The Austrian prototype for the Nazi confiscation policy of Jewish property was launched in Burgenland. The consequences of that war spread and created the seeds of many of the current conflicts around the world in the Middle East, the Balkans and the former Soviet Union. My descriptions amazed my colleagues in the Peacekeeping program as I related that history to them.
In Schlaining, I found people dedicated to overcoming the negative history of Austria's past as well as to resisting the rise of violence and anti-Semitic and anti-foreign sentiments. It is true that Haider has tapped into a virulent strain of Austrian culture driven by the myth that Austrians were "victims of the Nazis." I feel a strong desire to support the counter efforts and participate in activities that reveal the danger of this virulent force.
Adding to the excitement of the associations with my international colleagues, I met many Schlaininger residents. Some of the older ones remember my mother, and the vibrant Jewish life that was an integral part of their past. Through my genealogy work I have found many survivors among family and friends. My proposal to invite the descendants of Schlaining's former Jewish families to return for a visit produced an immediate and positive response. After preliminary talks with the officials of the Study Center, the political leaders and the Catholic and Protestant religious leaders, they all decided to be co-sponsors of such an event. Chosen as the coordinator was Manfred Koch, the Pastor of the Evangelical Church and the director of Concentrum, an Ecumenical Religious study center in Stadtschlaining. Our target date is June, 2001.
The purpose would be to create an environment in which reconciliation can take place among the present villagers and descendants of the former Jewish residents. The reluctance to admit truths about the past has a negative affect on Austria. Several townspeople approached me personally to acknowledge their sins and those of their families for their actions against Jews, and to talk about their repentance. This made me uneasy, and I was perplexed about why they chose to vent these issues with me. I then realized that I was one of the few descendants of those Jews who has returned, even if only temporarily.
Pastor Koch told me about the difficulties that are occurring among members of his congregation, old and young, as a result of unresolved guilt from the past. I feel that healing, for those who were victims as well as those who were victimizers or silent witnesses, cannot take place until the wounds are aired openly. Only then may forgiveness be requested and granted. I feel certain that this will be an emotionally risky undertaking.
Based on a story that I wrote last year, a reporter from Burgenland radio interviewed me on the air about why I came back (my comments had to be translated into German). This was a catharsis for me. I experienced emotional and psychological relief at being able to express that, although I cannot ever forget, I can forgive. The broadcast aired after I left, so I am not aware of the response of the radio listeners – this I hope to learn soon.
There are many people who have no guilt, but have wonderful memories to share. Hearing stories about my family that I never heard before, particularly about my mother, made me so happy. An important reason why I am eager to plan a reunion soon is that most of these people who remember are in their 70's, 80's and 90's. To miss an opportunity to learn and record their oral history would be a major loss.
As if I were not busy enough, I tutored a 15-year-old boy, Philipp, in English. He is the son of Werner Gloesl, the Director of Tourism of the village. Werner has become a good friend and has contributed so much to my efforts to understand the past. My tutoring was not initially successful, as Philipp failed his examination. As a consolation prize, he asked his father to send him to stay with me in Washington for 2 weeks so he could improve his English. He was here with me from the end of July until early August. It was fun, and he succeeded in passing the make-up test.
I had several noteworthy encounters with individuals who have been researching related issues. I arranged to meet Dr. Gert Tschoegl who, in 1988, had interviewed my cousin Alexander Glaser from Oberwart (Alex now lives in Zurich). Dr. Tschoegl's dissertation described the Jewish families of Oberwart, and he is continuing his work on Jewish history of Austria. In the planning for a celebration in 2001 to mark the 80th year of Burgenland as part of Austria, Dr. Tschoegl intends to include an exhibit about the Jews who were forced to leave in 1938. I am helping him to identify individuals to testify and participate.
Dr. Peter Felch, one of my study colleagues, joined me in my search for information. He is very knowledgeable about Austrian Jewish history. Having married a Russian Jew (with whom he had two children) heightened his awareness of the dangers of Austrian anti-Semitism and the prospect of its resurgence. During lunch breaks, Peter drove me to visit the neighboring towns where the population of the Jewish community spread from Stadtschlaining in the early 1900's. Our explorations uncovered much information.
Some cemeteries remain intact (Oberwart, Rechnitz) although others are destroyed (Gros Petersdorf). There were historical references to the existence of 3 Jewish cemeteries in Stadtschlaining, a community where Jews lived since before the synagogue was built in 1715. There is one remaining cemetery, now restored after being destroyed during the war. I saw the second cemetery, which is now a privately owned garden. The earliest one is no longer there, but subsequently I solved the mystery of its former location. Frieda Schieder, a 91-year-old former Stadtschlaininger, told the story of how the bones of Jewish people buried there were uncovered and reburied in the second cemetery in the early 20th century.
There are several former synagogues in Burgenland. The synagogue in Oberwart was recently renovated as a music school and performance center. I attended a Concentrum sponsored concert of Jewish music sung by Russian musicians. Sitting in that place and listening to ancient Jewish melodies deeply affected me. I thought of my father and his family, and imagined their presence and their experiences when worshiping there. For years the building was used as a garage to house fire trucks; the young people of Oberwart had no idea it was a former synagogue. The music director asked if I could help him to find a picture of the building as it appeared when it was the synagogue.
I also saw the exterior of the synagogue in Rechnitz and an adjacent building that housed the ritual bath. Nearby in Deutchschutzen (my grandmother Regina Bauer Lowy's village) and in Rechnitz are two memorial sites marking places where hundreds of Hungarian Jews were murdered in 1945 by the Nazis during forced marches of slave laborers for the German war machine.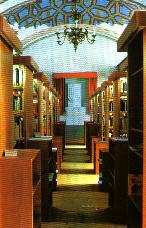 In Stadtschlaining, I visited the former synagogue/Peace Library often. The Librarian, Dr. Lisa Fandl, was so supportive and responsive in my quest. I gave her the Hebrew-German prayer books from which my maternal grandparents Ignatz and Hedy Braun prayed more than 100 years ago. My mother had carried them among the few items she could salvage when she fled from her home to the United States. Now, in her memory, the prayer books will be restored and permanently displayed in the synagogue.
Lisa arranged for me to spend time with Dr. Gerhard Baumgartner who, in 1988, wrote a book about the Jewish community of Stadtschlaining. It was his grandmother, still alive in Gros Petersdorf, who rented a place to the Jewish community for a prayer house. In the twelve years since writing the book, he has compiled considerably more and interesting information. One of his projects was a video film about the Jews from Burgenland who now live in Israel. We have been discussing the yet-untapped treasure that remains in Eisenstadt, extant Jewish records about the history of the Jews of Burgenland. How to access them and research their contents are critical questions.
In my visits to Gros Petersdorf I learned more about my relatives, the Schey family, who were well known there. I received several written accounts of the story of the time the King of Hungary visited the Schey home and conferred upon the head of the family the royal title of Baron. I thought this was only a family legend. While seeking the location of the Jewish cemetery, I saw a monument in the Christian cemetery to the war heroes of World Wars I and II. It was poignant to see the name of Felix Schey among those who died in the First World War. His name and that of another Jew were squeezed in at the bottom of the monument as an afterthought, out of alphabetical order.
One weekend, a colleague and I drove to Zagreb in Croatia to visit my relatives there. Our adventures on that drive - passing through 3 countries, getting lost in Slovenia - were comical and eventful. But that is a separate story.
On several weekends, our IPT group went to Bad Taztmandorff. This place was legendary in my family. It is truly a special place, with many thermal baths and resort-type activities. It is close enough to Stadtschlaining to walk there in one hour or to drive in ten minutes.
Oberwart, my father's former home, is a thriving commercial town with lots of shops, even two Chinese restaurants. The entire area of Burgenland is quite beautiful, with green fields, rolling hills and forested nature preserves ideal for hiking.
Now I am preparing to activate the commitments to ASPR that I made in June. These include assisting in the mounting of a new exhibit in the Peace Museum. The subject will be the History of Negotiation, from Solon to Jimmy Carter at Camp David. Another project is to forge a relationship with the US Institute of Peace and to conduct a joint Seminar with them.
My personally most meaningful commitment is to work with people in Stadtschlaining to organize the reunion. Although the plans are very preliminary, more than 25 family members and friends to whom I mentioned it are responding eagerly and enthusiastically. There is a long way to go between today and the event planned for June 2001. My inspiring experiences must be tempered by the practical realities for accomplishing this event. How it will turn out is impossible to know. Anyone reading this article who is interested in attending or acquiring more information about the reunion is welcome to contact me via e-mail.
While my story may have seemed long and somewhat incoherent, it only scrapes the surface of the impact the experience had upon me. So much came together in a remarkably short time. I have a sense that I am caught up in something that transcends my ordinary life.
-o-
Some additional web links for Stadtschlaining:
http://www.aeiou.at/aeiou.photo.data.text.fw25/fw17096v.hts
http://www.unesco.org/human_rights/hrfw.htm
http://www.wohnbausparen.at/stadtschlaining.htm
http://www.tiscover.com/1Root/Kontinent/6/Staat/7/Bundesland/22/Ort/213145/Homepage/f_homepage...2.html
* The author may be reached by E-mail at ReginaEspenshade@worldnet.att.com
---
Return to Austrian Gemeindeview
---
Return to Austria-Czech Home
---