...
FRANZ KAFKA
1883 - 1924
"Not one calm second is granted to the Western Jew. Everything has to be earned, not only the present and the future but also the past- something after all which perhaps every human being has inherited- this too must be earned; it is perhaps the hardest work."
–Franz Kafka
Franz Kafka was born in 1883 Prague and died there in 1924. A Jew among Christians, a German among Czechs, leaving and writing in the environment which made a symbiosis at this cultural crossroads so promising, and which so early death denied us.
Although he is now thought of as a major figure in modern European literature, during his lifetime Kafka did not have such a title. Born into a middle-class Jewish family, Kafka was able to try out several studies at his university before graduation as a doctor of law. After graduation, Kafka worked long hours is several insurance companies. He was forced to cut back on his hours due to poor health. This allowed him the opportunity to write. Kafka began to suffer from TB in 1917, causing him to spend much of the remainder of his life in sanatoriums.
Kafka had a circle of friends that consisted primarily of Jewish intellectuals and writers. In his latter life, Kafka even considered moving to Palestine. Judaism is said to have played a large role in the mystical tone of his writings. Several of his works were published during his lifetime. However, Kafka requested that a friend, Max Brod, burn all of his remaining works after his death. Brod did not concede to this wish; and the writings published after Kafka's death granted him international fame. Among his most famous works are The Trial, The Castle and America. The unique style of his writing yields the term Kafkaesque, which refers to the mystical, dreamlike quality of his written world. This is often a world of anxiety and desperation, which emphasizes the individual's isolation from modern society. Kafka's insight into the frailty of man produced a philosophy of existentialism, which found renewed and intense interest in his works many years after his death, and on both sides of Atlantic.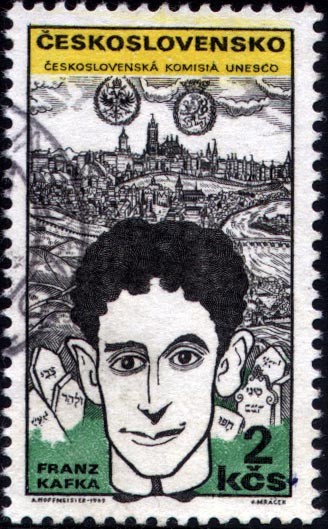 On the stamp issued in Czechoslovakia in 1969, Kafka's portrait is shown with a drawing of medieval Prague - the home of one of the biggest Jewish communities in Europe and with tombstones of old Jewish cemetery on the background. It was a part of UNESCO cultural heritage set of 6 stamps with famous people in caricatures style made by one of UNESCO original activist Adolf Hoffmeister (1902 – 1973), a famous Czech artist and diplomat who knew Kafka personally as well as Salvador Dali, Bertolt Brecht, and James Joyce.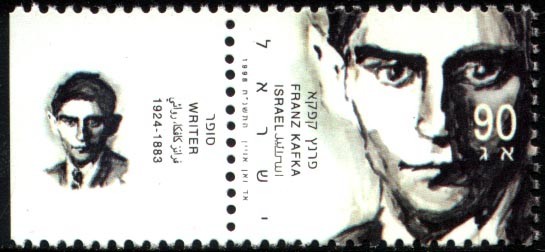 When Israel Postal Authorities in 1998 released set of 6 stamps with selection of renowned figures represented the multifaceted nature of the Jewish contribution to general culture- Franz Kafka stamp was among them too. One the stamp and the tab is his portrait based on the last pictures made in 1924 in a sanitarium in Kierling, Austria, near Vienna.
Return to Stamps page

---
Return to BohMor Home
---
...