MEETINGS

Non-members/Visitors are welcome to attend programs for a $5.00 fee. If a guest joins the society at the meeting, the fee will be applied toward the membership dues.

Non-members may attend one meeting per year free - see the certificate on the Current Programs page.

Workshops are open to JGSGW members only. Non-members may join on the day of the workshop unless advance registration is required.

Meetings are held at a variety of locations.

Meeting Calendar

Meeting calendar through Spring 2013:
See the Current Programs page for more information.
ANNOUNCEMENTS

SALE! Our stock of the 6th Edition of Capital Collections, regularly $15, has been reduced to just $10 (if ordered by mail), or $5 if picked up at meetings. This sale is applicable until the current stock is sold. We will produce a new version in 2013, which will be available at the regular price.
We've installed a scanner on one workstation in our Library. See the Librarian for assistance.
The JGSGW Genealogy Library contains the complete set of lectures from the 31st IAJGS Conference on Jewish Genealogy, as well as hundreds of lectures from JGSGW meetings and IAJGS conferences over the past decades. Visit the library and ask the librarian for the title, speaker or subject that you are interested in and then sit at one of the 12 computers using headphones to listen to the lecture.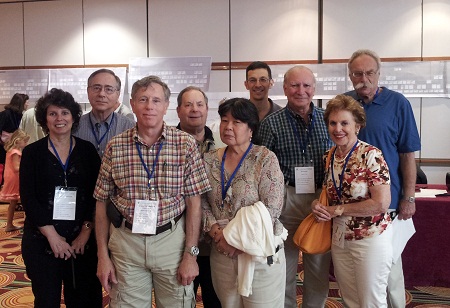 JGSGW members at IAJGS-2012 Conference, Paris