March 16, 2013 - The Virginia Beach Genealogical Society, Virginia Beach, VA information
March 23, 2013 - The Family History Institute of Southwest VA, Wytheville, VA brochure
April 5-6, 2013 - Fairfax Genealogical Society at the Fair Oaks Mall, VA information
JGSGW will have a table at the FxGS Spring Conference on Saturday.
April 6, 2013 - The Mid-Atlantic Germanic Society in Bowie, MD information
April 17-18, 2013 - NARA 9th Annual Genealogy Fair, NARA, Washington D.C.
JGSGW will have a table at the NARA Genealogy Fair.
The NARA Genealogy Fair has been cancelled due to Sequestration.
April 20, 2013 - Virginia Genealogical Society, in Mechanicsville, VA brochure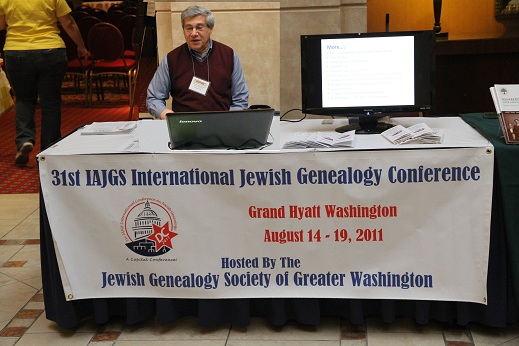 JGSGW Table at FxGS Conference, March 2011, with Ernie Fine.
Regional Conferences, Fall 2013
Fairfax Genealogical Society (date and location TBA)
Also see Harold McClendon's regional genealogy event list.
JGSGW does not generally sponsor or endorse these conferences, but brings them to your attention as a public service. JGSGW from time-to-time may provide information to, or staff tables at, other conferences. Conferences shown in bold type above will have a JGSGW representative present.