MEETINGS
Non-members/visitors are welcome to attend programs and we hope that you will join the society to receive all of the other benefits of membership.

Attend 8-10 monthly meetings in locations throughout the metro area (VA, MD and D.C.)
Participation in JGSGW workshops, including FREE Beginner's Workshops held twice annually.
Members receive a copy of the "JGSGW Membership Directory & Family Finder."
Members-only use of the JGSGW genealogy library.

Members receive the JGSGW journal "Mishpacha" four times a year.

Discounts on JGSGW publications.

Participation in JGSGW trips, tours, and special events.
Meetings are held monthly in locations throughout the area (VA, MD and D.C.)

In 2017, a Howard County chapter was established; meetings will be held in Columbia, MD
Meeting Calendar 2017 - 2018
JGSGW Society: The Fall schedule is being developed for the JGSGW calendar, and will be posted as soon as it is available.
Howard County Chapter: Meetings to be held:
Monday, July 24
Monday, August 28
Saturday, September 9
Tuesday, November 7.
Click here for more information.
Guest Attendance Policy: As of January 1, 2014, a non-member may attend the monthly JGSGW meeting as a Guest for a $5.00 fee payable at the sign-in table. The $5.00 Guest fee may be applied toward payment of annual JGSGW membership dues if dues are paid at the same meeting at which the guest fee was paid. JGSGW members requiring personal assistance at a meeting due to a health condition or disability may bring someone to assist them free of charge.
ANNOUNCEMENTS
JGSGW has established a Howard County, MD, chapter. Click here for more information.
The 7th edition of Capital Collections is now available.
The JGSGW Library will reopen for the fall on Wednesday, September 7, 2016 and will be open Wednesdays from 10:30am–3pm by appointment. We are open 3 PM - 4:30 PM after most JGSGW meetings at B'nai Israel. We are closed Jewish and Federal holidays. The Library is located in the Chod Media Center, B'nai Israel Congregation, 6301 Montrose Road, Rockville.
We have recently renewed our Ancestry World Edition subscription. Researchers can use it in the JGSGW Library with the librarian's assistance or by themselves. We also renewed our subscription to the Suwalk Lomza Interest Group's Journal, Landsman.
The Donations page has been updated to include information on the IRA Charitable Rollover (Qualified Charitable Distribution).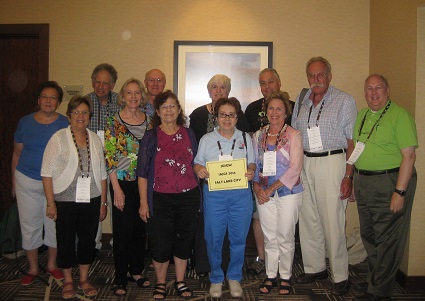 JGSGW members at IAJGS-2014 Conference, Salt Lake City
(click picture for larger version)
SOCIETY NEWS
See us on Facebook https://www.facebook.com/groups/jgsgw
Many back issues of Mishpacha, our quarterly newsletter, are now available online. See the Mishpacha page for more information.
If you are interested in joining our dynamic team of board members, e-mail
© 2016, Jewish Genealogy Society of Greater Washington, Inc.