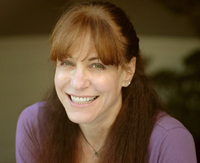 Join us on
Sunday, March 26, 2017
2:00 PM
for a video presentation by
Pamela Weisberger z''l
Galician & Polish Research Online!
The meeting will feature another video from the series offered by the International Association of Jewish Genealogical Societies.
In this lecture, Pamela Weisberger, demonstrates Internet resources, websites and search engines for conducting Polish, Galician and Austrian Empire genealogical and historical research. She covers the use of Gesher Galicia's databases, including The All Galicia Database, the Cadastral Map Room and Galician Archival Records Project inventories, along with resources like GenTeam, Mapire and Genealogy Indexer.
Pamela Weisberger was president of Gesher Galicia, 1st vice-president of the Jewish Genealogical Society of Los Angeles,
and was co-chair of the 2010 IAJGS Conference.

The meeting will be held at
The Breman Museum,
1440 Spring Street
Atlanta, GA
The program is free for members of The Breman and is included in the museum admission fee for guests.