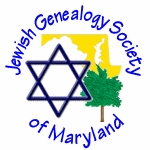 Home
Maryland Resources
Links
Contact JGSMD

Other Area JGS Websites
Greater Washington
Greater Philadelphia
New York




Jewish Genealogy Society of Maryland
---
Sunday, February 13, 2011
Introduction to the Jewish Genealogical Society of Maryland
Sunday, February 13, 2011
10:00-11:20am
Shomrei Emunah Congregation, 6221 Greenspring Avenue, Baltimore


Join us if you have an interest in Genealogy, starting your family tree or finding your roots. The Jewish Genealogy Society of Maryland has been restarted to provide information, guidance, resources and forum for Jewish genealogy interests. Please rsvp for a 10 minute session with a genealogist to start you on your family tree creation and discovery. 410-764-0567 begin_of_the_skype_highlighting 410-764-0567 end_of_the_skype_highlighting, familytreemania@aol.com. Sponsored by Simcha Photography and Video.


JGS Maryland has many volunteer opportunities available! If you're interested in getting involved behind the scenes, please be sure to let us know!
31st IAJGS Conference on Jewish Genealogy
The 31st IAJGS Conference on Jewish Genealogy will be held in Washington D.C. on August 14-19, 2011. Click the logo below to visit the dc2011.org website for more information.
New York City Vital Records
JGSMD has completed acquiring New York City vital records index films at the Columbia Family History Center. See our Columbia FHC webpage for film numbers and descriptions. Please consider making a donation to offset the cost of acquiring these films and to provide JGSMD the funding to acquire additional resources for our members. Contact familytreemania@aol.com for information on how to make a donation.