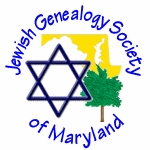 Home
Maryland Resources
Links
Contact JGSMD

Other Area JGS Websites
Greater Washington
Greater Philadelphia
New York




Jewish Genealogy Society of Maryland
---
Sunday November 23, 2014
Save the date for our next meeting!


Please join us at the November program of the Jewish Genealogy Society of Maryland, which will be held on Sunday, November 23, 2014, from 1:30 to 3:30 p.m., at the Pikesville Library's meeting room, 1301 Reisterstown Road.

Lara Diamond will give two mini-talks:
She will first present "Finding a Family's Town: A Case Study," which describes how she was able to find her ancestors' town of origin—which was quite far from where family lore had placed it. Finding that town enabled her to trace that branch back to the mid-1700s.
She will also present "Beyond Ancestry.com: It Isn't All Online!" and will show some examples of documents not available online—which often tell the best stories of family members. These documents include old court records, land records, Eastern European census records, shul journals, newspapers, and more.
Lara Diamond is currently Vice President of the JGSMD and will take office as President of the group in January 2015. Her family history blog is at http://larasgenealogy.blogspot.com/. Join us on December 28, 2014 when Barry Nove, author of "The Ellis Island Experience: A Sampling of Stories and How You Can Research Your Own" will speak about "Ellis Island and the Immigrant Experience." He will be sharing the story of how families from Europe came to the United States in the late 19th and early 20th Centuries, what documents you can find, and research tips to help you learn your family's story.

Barry will be giving a presentation which will include photos of the ships his ancestors came over on, share a replica manifest, and offer his book for sale after the program.

Barry Nove's fascination with the Ellis Island experience began when work and hobby aligned and he organized the first family re-enactment tour of Ellis Island in the mid-1990s. In planning the program he met with the museum archivists, arranged period clothing for the participants, and learned about the experience his grandparents, great grandparents and relatives went through when they arrived in America. The tour of the Ellis Island Museum (120 people of all ages) was filmed by PBS as part of Ancestors, a 10-part series, which aired in 1997.
Barry Nove's Ellis Island tales have appeared in anthologies. In 2014, he published, The Ellis Island Experience: A Sampling of Stories and How You Can Research You Own. He grew up in St. Louis, Missouri. He is Executive Director of Oseh Shalom in Laurel, Maryland, and is a member of the Jewish Genealogy Society of Greater Washington D.C. He currently lives in the greater Washington DC metropolitan area. Check out his Jewish genealogy blog on his website at www.BarryNove.us or follow him on twitter at @jewishgenealogy.

See our past programs here.





Do you have a genealogy brick wall that you'd like help breaking down? Click here to find out how to have our membership help.





JGS Maryland has many volunteer opportunities available! If you're interested in getting involved behind the scenes, please be sure to let us know!

Please visit our

programs

page for details on our 2013-2014 programming schedule.

JGS Maryland has been reconstituted!
JGSMD had its initial meeting on Sunday August 18, 2013 to see if there was interest in the group's reconstituting. The turnout was overwhelming, with 31 people attending with only a few days' notice. Look forward to new programming over the next year!
Some of the attendees: