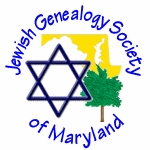 Home
Maryland Resources
Links
Contact JGSMD

Other Area JGS Websites
Greater Washington
Greater Philadelphia
New York




Jewish Genealogy Society of Maryland
---
Sunday October 26, 2014
Save the date for our next meeting!


JGSMD's next meeting will be on Sunday, October 26, 2014, from 1:30 to 3:30 p.m., at the Pikesville Library's meeting room, 1301 Reisterstown Road. Renowned author, publicist, and raconteur M. Hirsh Goldberg will convey the flavor of Baltimore's early 20th century immigrant community as he tells us about one of the founding families of Corned Beef Row, the Attman family. He will discuss his new book, It All Started with a Deli: The Attmans of Lombard Street, which tells the story of Harry Attman, a young immigrant, who opened a small confectionery/deli in Baltimore in 1915 and, with his wife, Ida, worked for many years to build a flourishing delicatessen business. The Attmans also raised three sons, Edward, Seymour, and Leonard, and taught them the values of hard work, ethical conduct, religious principles, and concern for others. Today, the Attmans are still a close family whose members have founded major businesses and have remained involved in their community.

M. Hirsh Goldberg is an award-winning public relations consultant who has served as press secretary and speech writer for government officials. He has written several other books: The Jewish Connection, The Jewish Paradox, The Blunder Book, The Book of Lies, and The Complete Book of Greed. He is also the author of authorized biographies of noted Baltimore individuals and families, including philanthropist and builder Joseph Meyerhoff and real estate developer Jack Pechter. Mr. Goldberg is a frequent contributor of Op-Ed pieces and articles to the Baltimore Sun, The Baltimore Jewish Times, and other publications. All of Mr. Goldberg's writings, books, and talks combine extensive research with fascinating stories, revealing information, and provocative insights.

The program is free for paid members and $5 for non-members (applied to membership fee when a visitor joins JGSMD) after their first meeting. Refreshments will be available.
See our past programs here.

Do you have a genealogy brick wall that you'd like help breaking down? Click here to find out how to have our membership help.

JGS Maryland has many volunteer opportunities available! If you're interested in getting involved behind the scenes, please be sure to let us know!
Please visit our
programs
page for details on our 2013-2014 programming schedule.
JGS Maryland has been reconstituted!
JGSMD had its initial meeting on Sunday August 18, 2013 to see if there was interest in the group's reconstituting. The turnout was overwhelming, with 31 people attending with only a few days' notice. Look forward to new programming over the next year!
Some of the attendees: