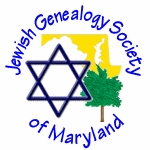 Home
Maryland Resources
Links
Contact JGSMD

Other Area JGS Websites
Greater Washington
Greater Philadelphia
New York




Jewish Genealogy Society of Maryland
---
Sunday September 28, 2014
Save the date for our next meeting!


The next meeting of the JGSMD will be held on Sunday, September 28, 2014, from 1:30 to 3:30 p.m., at the Pikesville Library's meeting room, 1301 Reisterstown Rd, in Baltimore. The program will be presented by James Schollian, George Harmon, and John Graves of the Hampstead Family History Center. Their presentation will give a brief background of the LDS Church's worldwide efforts to document, digitize, and index available records essential to family history research (including Jewish records). They will explain how to use the FamilySearch web site, sign up as a free member, use the site as a personal repository for your own records, access the learning aids, and get one-on-one help locally on the phone or in person. They will also demonstrate some of the features of the Family Tree program and provide some time to answer questions.

The LDS Church-sponsored Family History Center in Hampstead and the one in Columbia have free access to a number of premium internet sites, including Ancestry.com, Heritage.com, and Findmypast.com. In addition, any of the thousands of microfilms from the Salt Lake City genealogical library can be ordered online and reviewed at the local centers. Both centers have computers, film readers, printers, and internet access, which are available free of charge.

Jim Schollian is a retired naval officer, electrical engineer, and home improvement contractor. Although he has no formal training in family history research, he has more than 30 years of personal experience. He has been a family history consultant for the Church for over 15 years and is currently the Director of the Hampstead Family History Center. George Harman is a retired environmentalist for the State of Maryland and is presently the Republican Party candidate for Baltimore County Executive. John Graves is a retired electrical engineer.
See our past programs here.

Do you have a genealogy brick wall that you'd like help breaking down? Click here to find out how to have our membership help.

JGS Maryland has many volunteer opportunities available! If you're interested in getting involved behind the scenes, please be sure to let us know!
Please visit our
programs
page for details on our 2013-2014 programming schedule.
JGS Maryland has been reconstituted!
JGSMD had its initial meeting on Sunday August 18, 2013 to see if there was interest in the group's reconstituting. The turnout was overwhelming, with 31 people attending with only a few days' notice. Look forward to new programming over the next year!
Some of the attendees: