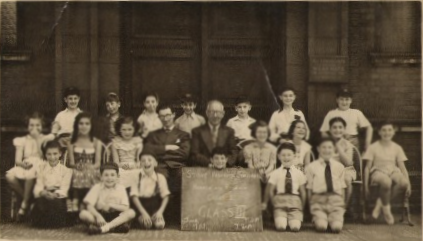 This photograph of Class III of 1952, kindly donated by taken Sonny Kosky, includes Sonny holding the blackboard,
in front of Mr. Rosen, the headmaster.
If you have anything to add to this section please contact JCR-UK
Back to Congregation Home Page
About JCR-UK | JCR-UK home page | Contact JCR-UK Webmaster


Terms and Conditions, Licenses and Restrictions for the use of this website:
This website is owned by JewishGen and the Jewish Genealogical Society of Great Britain. All material found herein is owned by or licensed to us. You may view, download, and print material from this site only for your own personal use. You may not post material from this site on another website without our consent. You may not transmit or distribute material from this website to others. You may not use this website or information found at this site for any commercial purpose.



Copyright © 2002 - 2014 JCR-UK. All Rights Reserved