Page created: 2 March 2002
Latest revision or update: 28 January 2014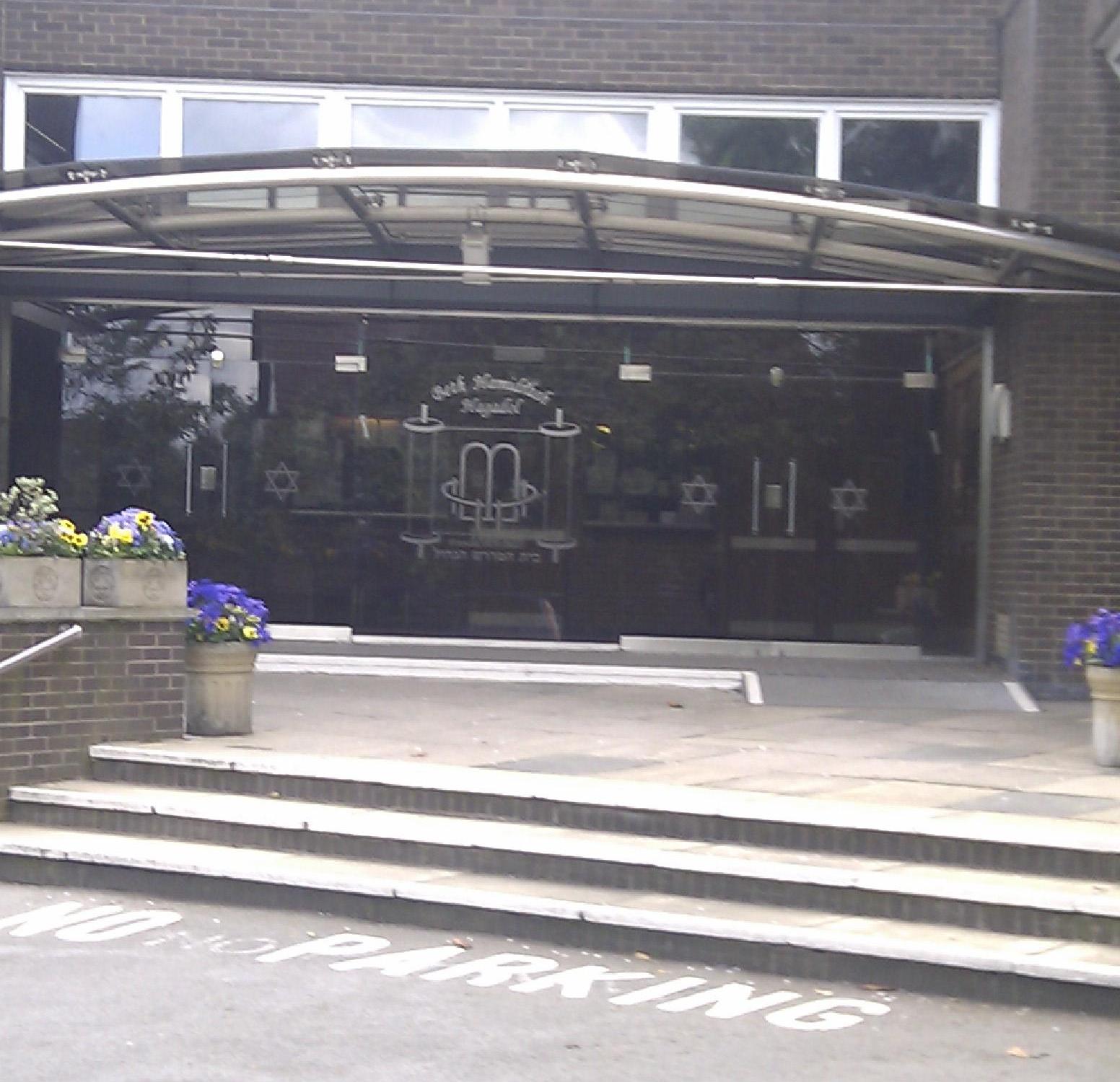 The main entrance to the Beth Hamidrash Hagadol Synagogue, Street Lane, May 2013
© David Shulman 2013
Congregation Data
Name:

Beth Hamidrash Hagadol Synagogue

Address:

Street Lane Gardens, 399 Street Lane, Moortown, Leeds LS17 6HQ

Other Addresses:

At one time there were two branches:
1. The original branch, which closed in about 1973. The last address of this was:
• Parkside, Newton Park View, Chapeltown Road, Leeds 7, from 1937.
Its previous addresses, all in or around the Leylands district of Leeds, were:
• Bridge Street (corner Lower Brunswick Street & Back Nile Street) from 1908 to 1937;
• Upper Hope Street from 1886 to 1908 (moving to larger premises in Hope Street in 1895);
• 20a St Albans Street (home of several synagogues over the years) from 1877 to 1886;
• Templar Street, where it started as a small congregation in the early 1870's
2. The present Moortown branch, which first commenced services in about 1959. New Synagogue built and opened in 1969

Current Status:

Active

Date Formed:

1874

Affiliations:

In 1890's and some time thereafter, was a member of the United Synagogues of Leeds, which also included the Great Synagogue.
Now, a provincial synagogue under the aegis of the Chief Rabbi.

Ritual:

Ashkenazi Orthodox

Membership Data:

Newton Park View branch

1904 - 250 seatholders (Jewish Year Book 1905)
1909 - 180 seatholders (Jewish Year Book 1910)
1940 - 560 seatholders (Jewish Year Book 1940-41)
1946 - 560 seatholders (Jewish Year Book 1947)
1953 - 620 seatholders (Jewish Year Book 1954)

Moortown branch

1999 - 710 (Board of Deputies)

Affiliates:

At certain times, the following congregations were affiliated:

Incorporated Congregations:

The following congregations were incorporated into Beth Hamidrash Hagadol Synagogue:
Website:

Marriage Certification:

Group for Certification: Board of Deputies
Appears in 1998 General Registrar Official List
Worship Number 71767
Registration District: Leeds North

Search the BHH Cemetery Records
Some 2,200 burials, plus photographs of over 2,000 headstones, in the Beth Hamidrash Hagadol Cemetery, Gelderd Road, Gildersome, from 1955 to 2013.

Other Information
Leeds Jewish Community home page
Other Jewish Congregations in West Yorkshire
Jewish Communities of England home page
About JCR-UK | JCR-UK home page | Contact JCR-UK Webmaster


Terms and Conditions, Licenses and Restrictions for the use of this website:
This website is owned by JewishGen and the Jewish Genealogical Society of Great Britain. All material found herein is owned by or licensed to us. You may view, download, and print material from this site only for your own personal use. You may not post material from this site on another website without our consent. You may not transmit or distribute material from this website to others. You may not use this website or information found at this site for any commercial purpose.



Copyright © 2002 - 2014 JCR-UK. All Rights Reserved