Page created: 3 October 2005
Latest update or revision: 15 December 2016
Town of Hartlepool
The county borough of Hartlepool, in the North East of England, has a population of about 88,000 and, since 1996, has been unitary authority. Prior to then, Hartlepool was a district of the now defunct metropolitan county of Cleveland, which had been formed in 1974. After the abolition of Cleveland in 1996, Hartlepool was placed back for ceremonial purposes in County Durham. Until 1974, Hartlepool (covering an area somewhat smaller than the present borough) had been a county borough in County Durham, and was formed in 1967 by the merger of the county borough of West Hartlepool with its smaller, but older, neighbour, the municipal borough of (old) Hartlepool. Hartlepool, a port on the North Sea, is on the north side of the river Tees estuary.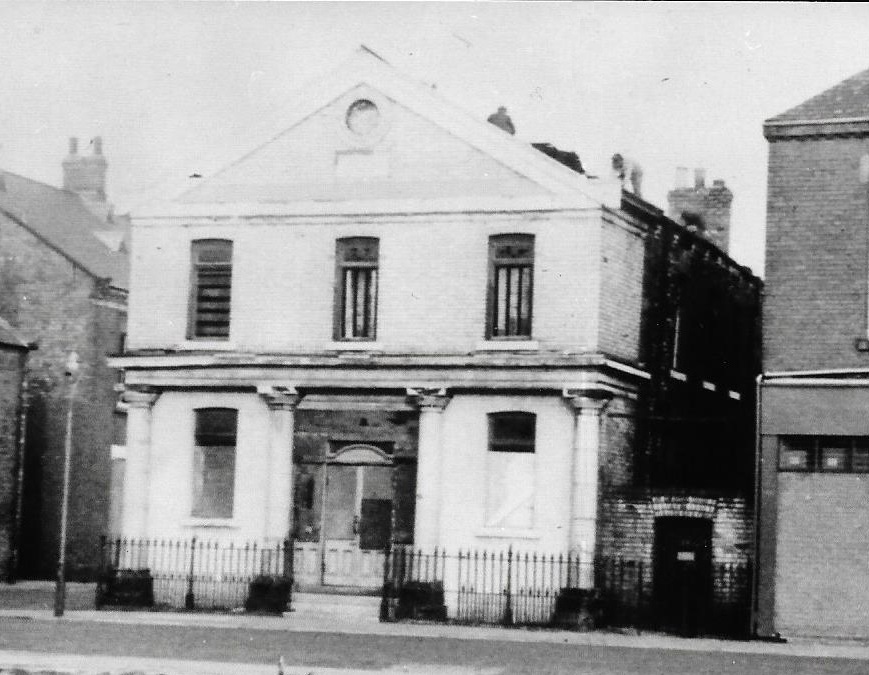 Former Synagogue in Whitby Street, West Hartlepool.
(Courtesy Peter Gatoff)
(West) Hartlepool Jewish Community
The Jewish community in West Hartlepool dates from about 1851. In the 1860's a congregation was established and during the 1870's the community built a synagogue and a Jewish cemetery was acquired. The congregation was never particularly large (no more than 80-90 individuals at its height in mid-twentieth century) and dwindled to little more than a dozen in the 1960's, at which time the town's only synagogue was closed.
Congregation Data

Name:

West Hartlepool Hebrew Congregation

Address:

The synagogue was in Whitby Street, West Hartlepool, purpose-built in 1872 (consecrated on 5 November 1872 - press report).

(Previously the synagogue was a room in Brunswick Street, West Hartlepool, and apparently prior thereto in Church Street.)

Date Formed:

The congregation dates from about 1863 (per press report)

Current Status:

Closed - 1967 (Remaining members join Middlesbrough Hebrew Congregation)
Synagogue demolished in early 1970's.

Ritual:

Ashkenazi Orthodox

Affiliation:

Became affiliated to Leeds United Hebrew Congregation for the purposes of burial rights.

Membership Data:

1896 - 13 seatholders (Jewish Year Book 1896/98)

1900 - 12 seatholders (Jewish Year Book 1900/01)

Marriage
Certification:

Worship Number: 20774;
Duplicate Marriage Records held by The Board of Deputies: Archives Ref: 6/2a/1 6/2a/2

Registration Districts:

9 June 1859 - Hartlepool
1 July 1938 - West Hartlepool
1 April 1967 - Hartlepool
1 April 1974 - North Cleveland
1 April 1996 - Hartlepool (which would now hold the records)
On-line Articles and Other Material
relating to the Hartlepool Jewish Community
on JCR-UK
Other Hartlepool Jewish Institutions & Organisations
(that had been formed by 1900*)
Educational & Theological
* As listed in the Jewish Year Books 1896 & 1900.
Hartlepool Jewish Cemetery Information
The Hartlepool Jewish Cemetery, Old Cemetery Road, Hartlepool.
(See also IAJGS Cemeteries Project - Hartlepool)
West Hartlepool Jewish Population Data

1870

20

1872

107

1896

68

(The Jewish Year Book 1896/97)

1900

107*

(The Jewish Year Book 1900/01

1934

68

(The Jewish Year Book 1935)

1945

35

(The Jewish Year Book 1946)

1951

50

(The Jewish Year Book 1952)

1965

107

(The Jewish Year Book 1966)

1970

68

(The Jewish Year Book 1971)

* Based upon research by Harold Pollins, in particular with reference to the 1901 Census for West Hartlepool and the Jewish Chronicle, it would appear that the above population figure for 1900 is substantially below the actual figure. Mr. Pollins identified 14 Jewish families and a single man in 1901, two of which consisted of 12 family members each, one of 9 family members, one of 8, two of 7, and four families of 5. In total, they accounted for 89 individuals. Furthermore, as at least eight of the families were present in the 1891 census, the increase in numbers could not have been the result of a sudden influx of Jews into the town.
Jewish Congregations in County Durham