Bibliography
The following books will be of interest to you:
Susser, Rabbi Dr Bernard: The Jews of South-West England
Exeter University Press, 1993
ISBN 0 85989 366 9
"The Jews of South-West England is the definitive study of the Jews and Jewish communities of Devon and Cornwall (in Exeter, Falmouth, Penzance and Plymouth). The book chronicles the rise and decline of these once important communities and the part played by Jews in local and national government. It describes in detail the integration of a foreign ethnic minority into the mainstream of English life, without entirely losing its distinctive characteristics. The book is illustrated, contains many tables and an index, and makes extensive use of the decennial census."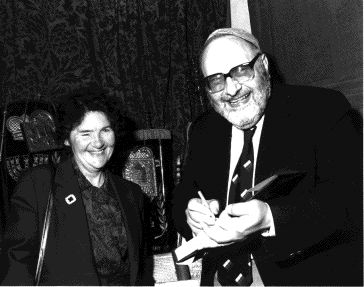 Rabbi Susser signing a copy of his book for Judith Samuels, at the Exeter launch,
held 21 September 1994 at the Exeter Synagogue. Judith later published her own book,
The Jews of Bristol.

Gent, Frank: Rosh Hashanah and Yom Kippur
RMEP, Chansitor Publications Ltd, 1990
ISBN 0 08-036354-7 net
An introduction to the festivals for schools, written by the former president of Exeter Synagogue, with an excellent colour photograph of the synagogue and congregation on its cover.
Sutcliffe, Sylvia and Barry: Committed to Judaism
RMEP, Chansitor Publications Ltd, 1994
ISBN 1-85175-024-X
"Committed to Judaism: A Jewish Community presents individual jews' views and feelings about themselves, their experiences, the world and their faith. These personal statements have been selected from interviews with ten people who worship at the same synagogue in London, including a mother, father and their two daughters, a young married couple, two grandparents and the rabbi. Everyone was asked the same set of questions and their answers are reported in their own words..."
It also includes a photograph of the interior of Exeter Synagogue, with the ark and Torah scroll.
Gent, Frank et al: Splashes of God-light
Bible Society
ISBN 0564 040568
"Splashes of God-light is an absorbing collection of nineteen Bible stories retold by Jewish and Christian writers from different walks of life..."
It includes a chapter by Frank Gent describing his son Leo's Barmitzvah in Exeter Synagogue in April, 1997.
Devon SACRE: Teaching Judaism in the Primary School
Devon County Council
A book for schools produced by Devon with support of the Exeter Synagogue, and including photographs taken there.
Neil Folberg: 'And I Shall Dwell Among Them. Historic Synagogues of the World'
Published by Aperture (1997).
Stunning photographs of historic synagogues. Only Exeter and Plymouth were chosen to represent England. This exhibition is at present touring the world.
Back
Home | About the Restoration | Holocaust Testimonies | Visit | History | Tour
About JCR-UK | JCR-UK home page | Contact JCR-UK Webmaster


Terms and Conditions, Licenses and Restrictions for the use of this website:
This website is owned by JewishGen and the Jewish Genealogical Society of Great Britain. All material found herein is owned by or licensed to us. You may view, download, and print material from this site only for your own personal use. You may not post material from this site on another website without our consent. You may not transmit or distribute material from this website to others. You may not use this website or information found at this site for any commercial purpose.



Copyright © 2002 - 2014 JCR-UK. All Rights Reserved