Page created: 2002
Latest revision or update: 30 December 2015

Town of Grimsby

Grimsby, also known as Great Grimsby, is a seaport of about 90,000 inhabitants located on the southern bank of the Humber estuary in eastern England. Until 1974, Grimsby was a county borough in the administrative county of Lindsey, one of the three Parts into which Lincolnshire was divided. From 1974, it formed the greater part of the Borough of Great Grimsby, a district of the now defunct administrative county of Humberside. On the abolition of Humberside in 1996, Great Grimsby was merged with the adjoining borough of Cleethorpes to form North East Lincolnshire, a unitary authority, treated for ceremonial purposes as part of the county of Lincolnshire.

Grimsby Jewish Community

Although there had been a Medieval Jewish presence in Grimsby, the Jews were not to return until the 1860's, when the situation in Eastern Europe coupled with the deep water port facilities and railway connections made Grimsby an attractive place to travel through. The Great Central Railway Company offered cheap package deals from Riga, Libau, Hamburg and Rotterdam to America via Grimsby (railway to Liverpool and Steamer to USA). At the height of the Exodus from Eastern Europe Grimsby saw some 5,000 immigrants a year (approximately 100,000 in total). The Grimsby population swelled from 8,860 in 1851 to 40,000 in 1880, a handful of these immigrants who put down roots were Jewish. The Jewish population is recorded as being 87 in 1871, rising to 450 in the early twentieth century and then gradually declining to 120 in 1982 and dwindling still further thereafter. (John Berman)


View Congregation Records

Marriage Records - Records of Grimsby Hebrew Congregation marriages from 1875 to 1921 (109 records).


Jewish Congregation Data

The following Congregations are, or were, the only Jewish congregations known to have existed in Grimsby in modern times:

Grimsby Hebrew Congregation (also known as the Sir Moses Montefiore Memorial Synagogue) - the principal Jewish congregation in the town. (As it is impossible to differentiate between the purely congregational information and general communal information, this page incorporates both.)

Grimsby Beth Hamedrash, which was in existence from the 1890's and closed during the first half of the twentieth century.
Grimsby Hebrew Congregation Data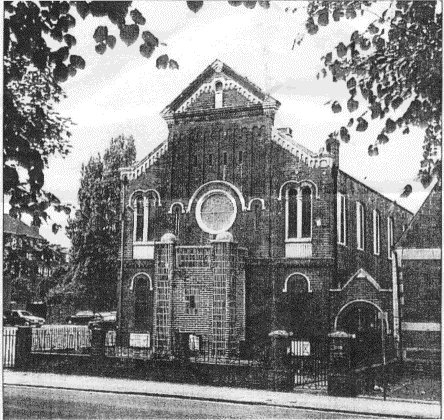 The Sir Moses Montefiore Memorial Synagogue, Grimsby
Congregation Data
Official Name:

Sir Moses Montefiore Memorial Synagogue
also known as Grimsby Hebrew Congregation
(previously known as Great Grimsby Hebrew Congregation)

Address:

Holme Hill, Heneage Road, Grimsby DN32 9DZ, Lincolnshire
(Foundation stone laid July 1885; Synagogue consecrated 11 December 1889)

Former Address:

A cottage in Strand Street, Grimsby, Lincolnshire

Date Founded:

Congregation founded 1865.

Current Status:

Active

Ritual:

Ashkenazi Orthodox

Marriage Certification:

Group for Certification: Board of Deputies
Appears in 1998 General Registrar Official List
Worship Number: 31166
Registration District: Lincolnshire

Cemetery:

The Congregation's cemetery is at First Avenue, Nunsthorpe, Grimsby, consecrated in March 1896. (See also IAJGS Cemetery Project)

Congregation Numbers:

1874 - 18 seatholders (Board of Deputies Return)

1880 - 20 seatholders (Board of Deputies Return)

1890 - 35 seatholders (Board of Deputies Return)

1895/8 - 60 seatholders (The Jewish Year Books 1896/99)

1900 - 80 seatholders (The Jewish Year Book 1900/01 and Board of Deputies Return)

1909 - 95 seatholders (The Jewish Year Book 1935)

1999 - 29 (as reported by Board of Deputies)
Other Grimsby Jewish Communal Organisations
Religion and Hebrew School, founded 1865..

Grimsby Jewsh Philanthropic Society, founded 1900

Jewish Literary Society

Congregation or Communal Documents Available

Other JCR-UK Pages relating to the Grimsby Jewish Community
Other Grimsby Jewish Information
Grimsby Jewish Population Data

1871

87

1896

149

(The Jewish Year Book 1896/7)

1898

320

(The Jewish Year Book 1998/9)

1900

450

(The Jewish Year Book 1900/1)

1909

450

(The Jewish Year Book 1910)

1934

400

(The Jewish Year Book 1935)

1944

400

(The Jewish Year Book 1945)

1955

400

(The Jewish Year Book 1956)

1965

210

(The Jewish Year Book 1966)

1982

120

1990

90

(The Jewish Year Book 1991)

2004

35

(The Jewish Year Book 2005)
Jewish Congregations in Lincolnshire
Jewish Communities of England home page