Page created: 6 October 2005
Latest revision or update: 3 August 2014
Town of Falmouth
Falmouth, a port on the south coast of Cornwall in southwest England, has a population of about 20,000.
It was a municipal borough until 1974, when it was merged with neighbouring localities to form the local government (non-metropolitan) district of Carrick. In April 2009, the district of Carrick and all other local government districts in Cornwall were abolished, and Cornwall became a unitary authority.
The Falmouth Jewish Community
Congregation Data
The following was the Jewish congregation to have existed in Falmouth:
| | |
| --- | --- |
| Name: | Falmouth Jewish Congregation |
| Address: | Synagogue built in Gyllyng Street / Smithick Hall in 1806. also referred to as East End Meeting House, Cape Cod |
| Current Status: | Closed about 1880 |
| Date Founded: | Community established by Moses Alexander in 1740. |
| Ritual: | Askenazi Orthodox |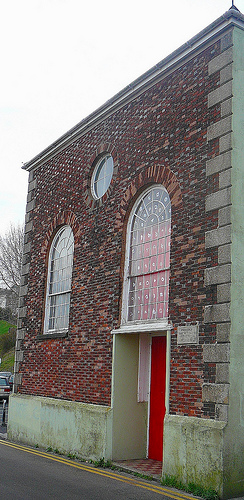 Falmouth Synagogue
© Tim Green
On-Line Articles and Lists relating to the Falmouth Jewish Community
Falmouth from "Provincial Jewry in Victorian Britain" - Papers for a conference at University College, London, convened by the Jewish Historical Society of Great Britain, prepared by Aubrey Newman - 6th July 1975. Reproduced here with his kind consent.
The Rise of Provincial Jewry - Falmouth by Cecil Roth, 1950. Available on-line by JCR-UK as part of the Susser Archive.
The Jews of South-East England. Rabbi Bernard Susser's 1977 University of Exeter thesis for his PhD degree. Available on-line by JCR-UK as part of the Susser Archive.
Tombstone Inscriptions at Falmouth Jewish Cemetery, transcribed by Rabbi Dr. Bernard Susser (a section of Rabbi Susser's "Jewish Tombstone Inscriptions in S. W. England - Studies in Anglo-Jewish History No. 3", which includes an Introduction that also makes reference to Falmouth). Available on-line by JCR-UK as part of the Susser Archive.
Jewish Encyclopaedia article on Cornwall by Joseph Jacobs, c 1906.
Other Falmouth Jewish Information
Jewish Congregations in Cornwall
Jewish Communities of England home page
Explanation of Terms Used