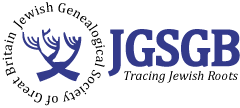 Contents of the "JGSGB UK Database" United Kingdom School Records


Terms and Conditions, Licenses and Restrictions for the use of this website:
These databases are owned or licensed to JewishGen and the Jewish Genealogical Society of Great Britain. You may not transmit or distribute material from this website to others. You may not use this website or information found at this site for any commercial purpose.



If you have questions or a request to distribute information, please e-mail the JCR-UK Webmaster