Southern Africa Jewish Genealogy Special Interest Group (SA-SIG)
http://www.jewishgen.org/safrica/rabbis&cantors/klaff_md/4.htm

Rev. Moses David Klaff

Click for: page 1 page 2 page 3 page 4 page 5 [BACK]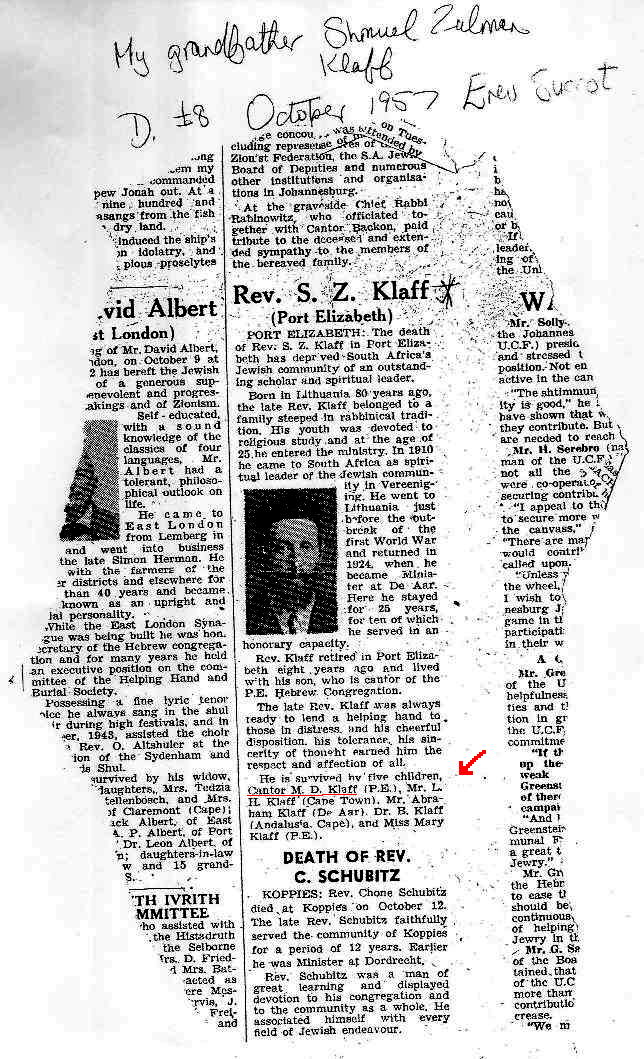 The hand-written date indicates a date of death of about 8 October 1957, Erev Succot. According to Arthur Spier's The Comprehensive Hebrew Calendar, ISBN: 0-87306-398-8, in 1957 Succot fell on Thursday 10 and Friday 11 October, 15-16 Tishri 5718.

The central piece, in addition to the name of Rev. Shmuel Zalman Klaff, contains the following names: Cantor M.D. Klaff (P.E.), Mr L.H. Klaff (Cape Town), Mr Abraham Klaff (De Aar), Dr B. Klaff (Andalusia, Cape), Miss Mary Klaff (P.E.).

The fragments of articles surrounding the central piece contain the following names which are listed alphabetically: Mr David Albert, Jack Albert, Dr. Leon Albert, Rev. O. Altschuler, Mrs Bat_____, Cantor Backon, East London Synagogue, Mrs D. Fried_____, Helping Hand and Burial Society, Simon Herman, Histadruth, Koppies [Hebrew Congregation], [Mer??]vis, Chief Rabbi Rabinowitz, Selborne, Mr H. Serebro, Rev. Chone Shubitz, Mr Solly _____, S.A. Jewish Board of Deputies, _____ Zionist Federation, Sydenham and _____ds Shul, Mrs. Tedzia? _____.